Today's valve for
tomorrow's need
SSV offers today's products for Tomorrow's Eco Systems
where higher efficiency and cleaner environment requires
High Temperature, High Pressure (HTHP), High Abrasive
performance behind the scene at
higher standard of tomorrow.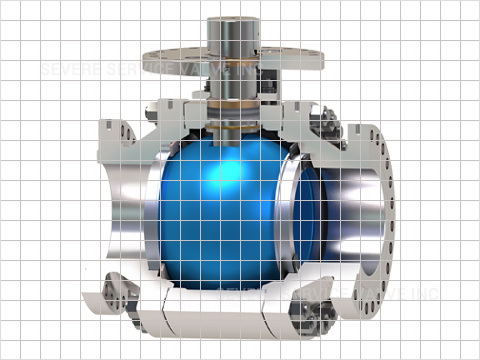 Severe Service Ball Valve
Petrochemical / Chemical
Acetic acid handling

Catalyst handling

DOWTHERMTM handling

Gas furnace isolation

Lethal services

Polyethylene isolation

Polypropylene isolation
Refining
Catalyst slurry handling

Coal slurry handling / ash removal

Heavy oil units

Hydrogen isolation

Hydrotreating units

Isolation in coker units

Isolation in FCCU applications
Mining
Autoclaves

Slurry transport
1. Body/End Connectin
Machined from forgings for material structural integrity.

 End Connectons: RFF- raised face flage – Standard.

Optons available on request: BW-But Weld, SW-Socket Weld, RTJ, Hub Connectors, Threaded, Lens Joint, Wafer, etc.

 Weld overlay of weted surfaces to protect from corrosion and erosion – available upon request.
2 & 3. Ball + Seats = the sealing assembly
Two-sided seat lapping delivers outstanding seal performance

Each ball and seat set are "blued" to verify continual contact is achieved across entire seat face

Oversized spheres allow slight over travel, which reduces wear and can accommodate misaligned actuator stops

Seating surfaces are protected from erosion in  the fully-opened position
4. Dual Belleville Springs
Provides resilient loading of ball to seat.

Provides efectve partculate exclusion.
5. Stem
SSV provides oversized stems to accommodate  torque increases that can happen over time. Economical, under-designed stems can cause signiἀcant operational problems with frequent use and catalyst build-up.
6. Pressure-energized inner stem seal
Two hard coated and lapped metal thrust bearings serve as both a pressure-energized inner stem seal and stem guide

Bearings prevent migration of media into the packing box

Lapped surfaces provide tight seal in combination with line pressure exerting additional vertical force

Dual coated inner stem seals prevent galling between body, stem and the inner stem seals
7. Packing Bushing
Prevents stem packing intrusion into body.

Works with stem bearing to prevent lateral stem moton
9. Anti-xtrusion Rings
Prevents packing extrusion.
10. Packing Follower
Thermally matched to stem material.

Prevents galling and contains upper packing.
11. Articulting Gland Flane
Spherically engages the packing follower to prevent stem binding and galling during adjustments.
12. Belleville Springs
Live load on the bolted joint eliminates routne gland adjustments.

Reduces maintenance.
13.Stem support bushing
Secondary stem bearing guide eliminates movement and packing deformation caused  by side-loading of stem by  the actuator

The stem support bushing, in combination with the double inner stem seals, provides a dual guiding system which prevents lateral movement of the valve stem
14. Mounting Flane
To properly support actuator weight,SSV heavy duty mounting brackets are ἀrst welded or bolted into place then machined for precise alignment

Alignment surface is both square with and centered  over the stem, promoting proper stem and stem  bushing alignment
15. Body Gasket
ASME 150 – 1500 class valves use an Inconel spiral-wound gasket with impregnated Grafoil®

ASME 2500 class valves and above use a pressure energized Inconel metal gold-plated delta ring gasket